All articles
Category: Case Study, 17.08.2020
Volkswagen – Innovative production thanks to the use of 3D printing from Omni3D
The Volkswagen factory in Września has been successfully using 3D printing technology for several years now, creating parts and tools used in the production of the Crafter model. It is on the Factory 2.0 printer from Polish company Omni3D that elements of robots cooperating with humans are printed.
The possibilities of 3D printing have long been used in the automotive industry and at every stage of production – from prototyping to the production of spare parts and final elements. The available materials allow for printing not only lightweight but also extremely durable elements.
An example of application and possibilities offered by the Factory 2.0 3D printer at the Volkswagen factory in Września is the improving the production process at the stage of assembling the window panes to the car body.
Robotic arms, with integrated vision system, are equipped with a tank filled with a primer and finished with a 3D printed dosing nozzle. Moving along the car on common axes they apply an activator, which ensures a precise connection of the glued glass.
The 3D printed dosing nozzle are specially designed to fit the robotic arms and printed on Factory 2.0 using THERMEC™ ZED filament. It's not without reason that this filament has been choosen by Omni3D specialists. THERMEC™ ZED has high temperature and chemical resistance, which in this case was necessary due to the corrosive substances used in the primer.
"The ability to print robot tools and parts on
Factory 2.0 printer
allows us to constantly improve and streamline the production process. Much faster prototyping and printing of even large components enables the introduction of further technological solutions, and thus an increase in production efficiency."-  says Mateusz Kazmierczak from Volkswagen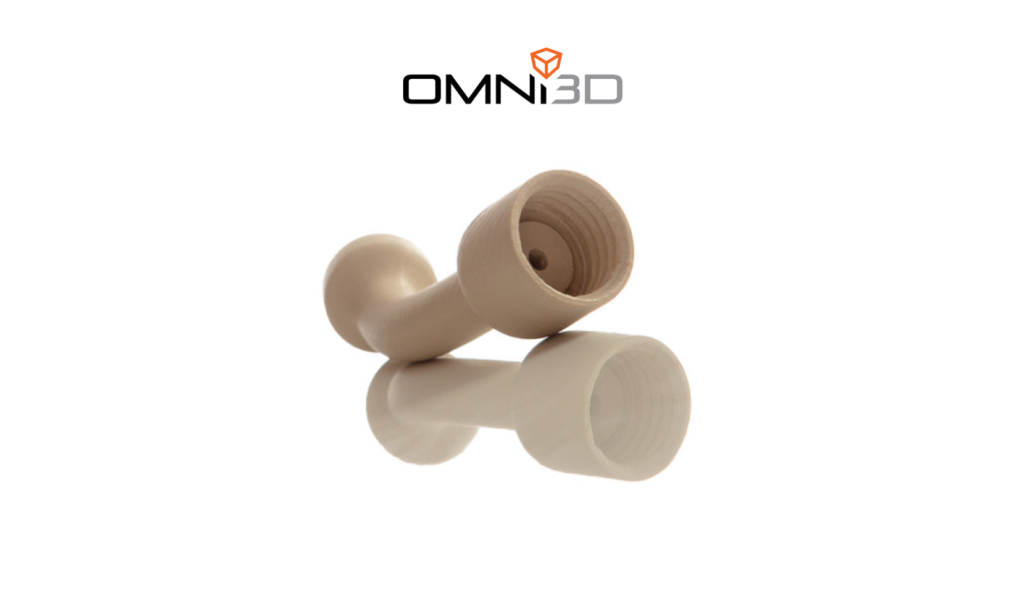 The THERMEC™ ZED material used is a new material in Omni3D's range, used for printing tools and equipment exposed to high temperatures and contact with chemicals.
Thanks to its very high mechanical and thermal strength it becomes an ideal material for use not only in the automotive industry, but also in the chemical, oil and gas industry. What is more, it is a flame retardant and self-extinguishing material with a very good ink coating.
3D printing: the future of the automotive industry
3D printing in the automotive industry is of great importance in increasing efficiency in several areas. It's used in the prototyping process to verify design, assembly and tooling testing. 3D printing gives the possibility to create final parts and spare parts for machines – those which are not available in stock at the moment or whose cost of a single production or purchase is very high.
Do you want to know more about the use of 3D printing in production?
Contact our specialist or ask for 3D printing on demand
Powiązane artykuły