All articles
Category: News, 14.03.2022
Omni3D cooperation with the Nowa Era publishing house – we modernize schools thanks to 3D printers
New technologies have become an integral part of our lives. This applies not only to adults, but also to children and young people. Using only traditional teaching methods and ignoring the opportunities offered by technological innovations may make learning in schools less effective.
The answer to the challenges faced by school heads are initiatives and programs supporting the implementation of positive changes. This was the case of the "Active blackboard" program and it is the case of the government program "Laboratories of the Future", which is currently being implemented in whole Poland.
It is a great opportunity to introduce to schools not only teaching aids, but also full innovative teaching processes.
Nowa Era and Omni3D actively joined the program. Nowa Era, as the leader of education in Poland, knows the needs of schools well and has been supporting educational institutions in this process for many years. Omni3D is a manufacturer of 3D printers that knows what problems are solved by the implementation of 3D printing technology in production processes, but also in everyday life.
– Lessons with the Omni200 printer will take students and teachers to a completely different dimension of teaching, because during the classes in 3D printing, young designers will not be bored. They will learn the methods of modeling and designing objects that after being sent remotely to the printer, will materialize layer by layer. Thanks to this, educational activities will become more interesting, more efficient, creative and engaging – comments Paweł Robak, CEO of Omni3D.

– As a leader in education in Poland, we have been supporting schools in the digital transformation process for many years. We have introduced a whole range of multimedia didactic solutions to teaching, and our electronic tools have changed the teachers' workshop. We also got involved in the "Laboratories of the Future" program. We chose reliable, proven suppliers. We chose reliable, proven suppliers. We believe that this cooperation will make the education of tomorrow visit Polish schools today, says Wojciech Sak, Business Development Director at Nowa Era Sp. z o.o.
The combination of such different competences has resulted in the creation of an offer that can change the approach in teaching many subjects. Thanks to the cooperation of Nowa Era and Omni3D, ready-made teaching kits were created – a desktop intuitive Omni200 printer with remote management and a specially prepared library of 3D models. These are solutions that support creativity and problem-solving skills that school graduates will encounter in their future work.
Their interdisciplinary nature is to arouse greater interest in science in students, which will cease to be associated only with boring lessons. Students who have so far remained passive will be able to show greater commitment, because innovations and practical activities stimulate children to act and think outside the box. This, in turn, will have a large impact on their creative abilities, digital competences and remembering content that they previously considered boring and incomprehensible.
3D printer with a ready didactic kit
The introduction of modern technologies in the form of a 3D printer and other multimedia solutions to schools is to refresh the teachers' workshop so that they use these teaching aids with openness and without fear. To make this possible, the employees of Omni3D and Nowa Era prepared teaching kits containing a library of 3D models, instructional videos, workshops and presentations supporting teachers during the lessons. Such equipment, along with accessories, will allow you to transfer knowledge in an attractive way, teach you to design 3D and contribute to the development of creativity and technical skills. It will implement students to operate modern devices and use the software. These are the competences of the future, so expected among job candidates.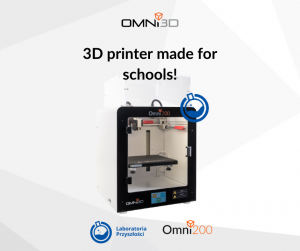 Everything that is created together by Nowa Era and Omni3D is to translate into a revolutionary but also safe path to success in teaching. The companies want to follow it in the long term, because there is still a lot to be developed. The "Laboratories of the Future" program is just a good start.
Powiązane artykuły