Tous les articles
Catégorie: Bez kategorii, 21.04.2021
L'impression 3D dans la fabrication de meubles
INEX System, a furniture manufacturing company, asked Omni3D to print 15,000 elements used in the production of shop furniture. 3D printing turned out to be the cheapest and fastest method of producing parts - compared to traditional production, our client saved time (production ended 21 days earlier) and production costs were reduced by 79%!
We faced the task of serial production by using 3D printer.
Project description
The printed furniture bushing in the shape of an elongated ring is finally installed in a wooden panel. Then a metal rod is passed through it to connect the entire furniture structure. INEX System uses this method both in the production of shop shelves, racks and display stands.
Our task was to print 15,000 pieces of the specified component, which was to replace parts manufactured using a different method. To make the project out technology chose PET-G as a printing material.
PET-G is a filament characterised by high printing accuracy, resistance to mechanical impact and time. Additionally, it can be used to print elements resistant to grease, petrol or oils.
Solution
The best solution turned out to be the use of desktop 3D printers from Omni3D, which in total printed 15,000 furniture bushings over 9 days in continuous operation. Serial production was realized on two models of desktop 3D printers – OmniSTART and Omni200, using PET-G filament. Specially designed manufacturing process allowed us to print and then remove finished parts automatically usind printer's head. This allowed us to utilise printers time in most efficient way.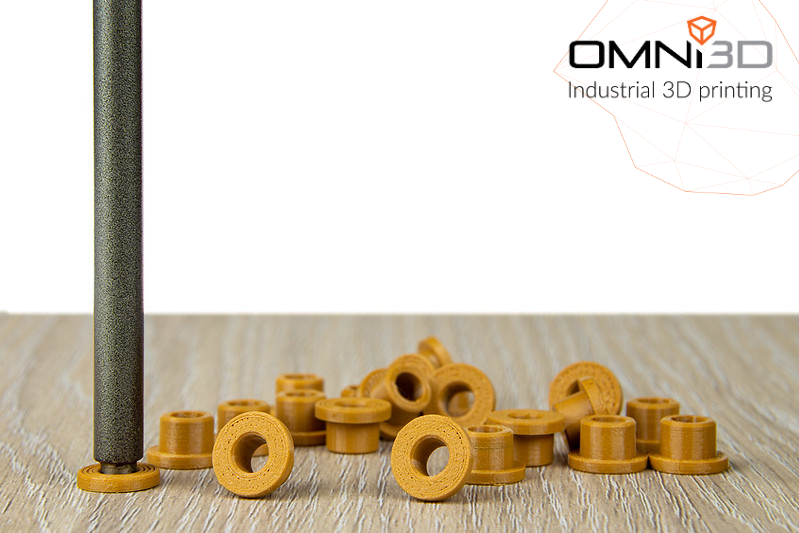 Effect
3D printing proved to be the most cost-effective and fastest production method for the parts specified. Compared to traditional production, the client saved time (production ended 21 days earlier) and production costs were reduced by 79%

See video of the printing:
Printout specification:
Sector
Furniture / Final products
Customer
Inex System
Category
Prototyping, series production,
final product
Filament
PET-G
Printing time
9 days / 15 000 items
Weight
0,56g/pcs.
Dimension
14 x 8 mm
Do you want to know more about the use of 3D printing in production?
Contact our specialist or ask for 3D printing on demand
Powiązane artykuły