All articles
Category: Knowledge, 24.09.2020
3D printing in the Rail Industry
Companies from the railway industry began to implement 3D printing technologies to perform production and maintenance work. Building a good train that can withstand the distance and provide passengers with comfort requires a large number of very high quality components. The rail sector is increasingly turning to additive manufacturing, more commonly known as 3D printing. Railroad companies and analysts say the technology - which has been in development over the last three decades - can help bring obsolete spare parts to market and cut production times by up to 95%. How effective is this technology and how much does it support the industry?
Author: Jacek Krzyżanowski
The production of rolling stock is another area of ​​application of 3D printing, which is successful in the production of an increasing number of elements previously made of metal. The benefits of 3D printing in the rail industry are becoming more and more apparent. Industry companies are keen to implement technology to solve problems with outdated spare parts and long delivery times for end-user tools and components. Not without significance, apart from becoming independent from suppliers of niche parts, is also the reduction of time when prototyping new solutions. In the last 12 months, many railway companies, including Deutsche Bahn, Bombardier and Angel Trains, have invested in 3D printing or increased their capabilities in the field of 3D printing.
Advantages of 3D printing in the production of spare parts in the Railway Industry
3D printing allows the production of machine parts, production lines or various types of grips necessary in maintenance. A significant increase in the amount of materials used for 3D printing in the recent period has increased the range of applications. Now, printing makes it possible to reconstruct machine parts that are damaged as a result of operation, and are expensive, difficult to import or unavailable on the market. Industrial 3D printers allow printing from durable materials that meet safety requirements, such as non-flammable certificates. Parts made of engineered materials are lighter than those made of aluminum, and at the same time are not inferior in strength. Additive technologies translate into significant time and cost savings as a result of making elements directly in the production plant. Thanks to the 3D printer, we have the ability to make parts on demand, without having to start purchasing processes. 3D printing gives the possibility of making elements in low series or single pieces at a fraction of the production costs using traditional methods, e.g. CNC machining.
 improving existing solutions without generating additional costs
risk minimization in the supply chain area
optimization of the repair process and elimination of obsolete parts
reduction of the production costs of tools, accessories and spare parts
efficient response to new customer needs
Innovative solutions in German Railways thanks to 3D printing technology
On a large scale, 3D printing is used in German railways, thanks to a modern management structure they more efficiently control the processes of introducing innovative solutions in railways.
The print head moves from left to right. The nozzle applies the material precisely. What initially looks like a simple two-dimensional rectangle is slowly taking shape. After several hours of work, the 3D printer made a new seat headrest in ICE for Deutsche Bahn. This is just one of the 100 different parts DB already produces using the 3D printing process. Particular emphasis was placed, inter alia, on for: fan wheels, headrests for regional trains, a wide range of housings, and even small parts not obvious to railways, such as: spare parts for coffee machines and clothes hangers for trains.
In German Railways, the 3D printing process allows for quick printing of spare parts that would otherwise be associated with long delivery times or would not be available at all. This means trains can get back on track faster and downtime is reduced. Before use, all components from the 3D printer undergo extensive tests, e.g. fatigue strength test. While the first printed parts were made entirely of plastic, mainly polyamide. Currently, various types of elements are printed from other materials, e.g. nylon with carbon fiber or non-flammable ABS.
According to a report by EY (Ernst & Young Global Limited), 16% of companies in the logistics and transport industry use 3D printing to produce spare parts. What drives this assumption? Why are the railway industries investing in industrial 3D printing?
In most cases, railway companies are faced with a situation where the production of the required spare parts has ceased or the manufacturers are no longer operational. 3D printing is the only technology that can solve such problems. Additionally, it does not require additional tools such as molds to create parts.
3D printing of spare parts significantly reduces the production time of obsolete components, in some cases by up to 95%. The process is also often associated with reverse engineering, especially when the original part design is lost or the supplier cannot be sourced.
A prototype of a railway seat printed by Omni3D on a Factory 2.0 printer
Polgár Kft. Needed a prototype to validate the new train seat design. There are always critical points in the design process that need to be verified on a 1: 1 scale. The prototype of the seat was made by the OMNI3D company on the Factory 2.0 machine. The device, as one of the few, meets two criteria necessary for this printout – a large working area (500 x 500 x 500 mm) and the possibility of printing with supports (2 heads). Generating the supports was necessary to correctly reproduce the seat geometry.
"By creating a functional prototype, the model can be precisely tested. Previously, it was practically impossible for us due to the very long waiting time for the production of parts using the traditional method. Now, thanks to the use of 3D printing, we can change the design immediately after printing the first elements. When designing the chair, it turned out, for example, that some moving parts (e.g. a pull-out garbage can) did not work properly. This was left out of the CAD design. "
Polgár Kft.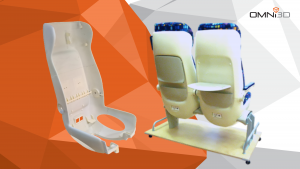 The use of 3D printing, for example, resulted in time savings from 16 weeks to 3 weeks and a significant cost saving – the standard one was about 400 000 Euro, a printed prototype is an amount close to 30 000 Euro.
There is a growing number of rail companies investing in additive technologies. Manufacturers and services of rolling stock see the benefits of implementing 3D printing and estimate the savings of production with the use of a 3D printer.
Application of 3D printing in railroad industry:
If your company is looking for opportunities to save time and reduce costs, please contact me. We will conduct a free audit and present an offer of industrial 3D printers tailored to your needs.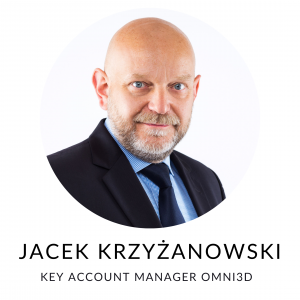 Contact:
LinkedIn: Jacek Krzyżanowski
m. +48 886 618 690
e-mail: jk@omni3d.com
Powiązane artykuły