INDUSTRIAL 3D PRINTER
Omni500 LITE
Machine for demanding customers with quick and easy operation
with industrial standards.
Download the leaflet
Close
Fill in the form and download the leaflet
Thank you
We send the materials to the e-mail address provided.
Wróć do strony
Build volume 460 x 460 x 600 mm
You can print large objects or multiple smaller models at once.
2 extruders with filament presence sensor
The machine is equipped with dual heads which make it possible to print on both sides of a fabric during one printout, the main build and the support material.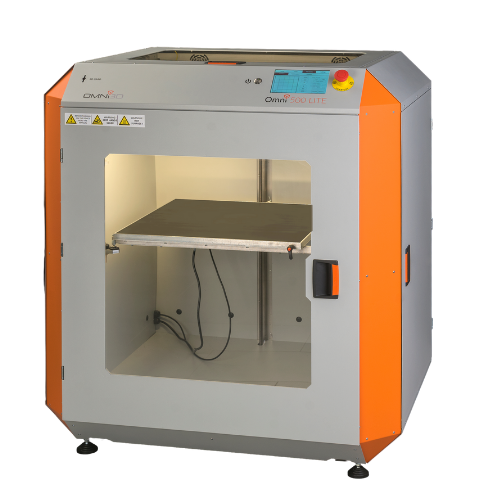 Printer management by website
The printer can be managed through a dedicated website, so you can easily start printing and control the process remotely.
Printer farm management
The possibility of remotely building and managing a printer set.
The benefits of working with us
Technical specification of the Omni500 LITE
Technical data
Build volume XYZ
460 x 460 x 600 mm
Nozzle diameter
0,4 mm (optionally 0,6 / 0,8 mm)
Max. printing speed
86 cm³/h
Filament diameter
1,75 mm
Technical data
Max. head temperature
360 °C (optionally 500 °C)
Max. platform temperature
150 °C
Max. chamber temperature
do 50°C
Compatible files
.stl, .obj, .3mf, .gcode, .factory
Leasing
Attractive financing for your device
ASK AN OFFER!