All articles
Category: Knowledge, 17.06.2021
3D printing and digitization of the storage
Usually we say that 3D printing is perfect for verifying concepts and designs, as well as for prototyping or final production. There are also other applications that do not directly arise when we think about 3D printing. This applies to warehousing and supply chain management.
Author: Monika Niedźwiedzińska
This topic has become particularly important in the era of a pandemic, which has shown the sensitivity of many companies in this area and made the production of products dependent on the smoothness of production in other countries and the capacity and openness of shipping routes. In the times of VUCA, the cycles of production and distribution of goods were disrupted, and the sector faced the challenge of rapidly implementing a transformation in this area.
Additionally, it should be noted that the management of the supply and production chain, despite the implemented robotization, is always burdened with a certain risk. In complex structures in which planning and optimization systems already operate, random events and phenomena, which are not fully predictable, come to the fore. Such factors causing production interruptions are, among others, failures of machines and devices that can lead to very long downtimes on production lines, and consequently affect supply chains and generate high costs. We understand that they cannot be completely eliminated. However, they should be minimized through the appropriate organization of the work of maintenance, warehouse and logistics departments.
How can this be solved?
The proposed solution to this type of problem may be the implementation of a digital warehouse, i.e. a virtual warehouse used to store files, for example in the STL format. To clarify, STL is an information recording standard that allows you to create tangible items based on a file generated in a CAD system. Such digital inventory can change the warehousing system and logistics of many companies. Parts do not have to wait on the shelf now, until they are needed, do not take up unnecessary space, do not lose their value (if not used in the right time, they are no longer useful). You don't have to rely on physical inventory to meet market needs, and you no longer have to fear disruptions in the supply of parts or raw materials that have serious cost consequences in production downtime.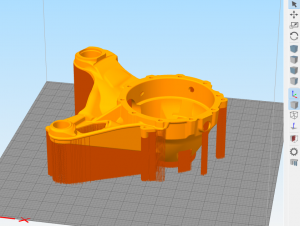 Doing differently, doing something different, in a different way – 3D printing does NOT replace, but approaches topics differently, innovative.
We recreate the necessary spare parts on demand, on the basis of a file, on a 3D printer, and then release them from the warehouse.
Upgrade your storage system
Such an innovative approach will affect the size of warehouses, logistics and even employment in these departments. Soon, this solution will become even more widespread due to its quick return on investment as well as convenience and cost reduction.
Regardless of the type of technology, the entrepreneur and the customer expects excellent quality with the shortest possible implementation time of the entire process. The 3D printing technology is perfect for this. No need to store parts anymore, you can just print them when you need them. This way of sourcing single items or small runs is more cost effective than other traditional parts sourcing.
Reduce investment in tools and save space
Currently, digital warehouses are used in the automotive industry, robotics and medicine. Digital inventory simplifies supply chain management, including at Whirlpool. The manufacturer of household appliances has officially released a digital spare parts catalog because it has found that 3D models take up less physical space than real parts. In addition, you can precisely choose the size of the batch each time and it is not a problem whether you need one or several pieces. Another advantage is the ability to modify the design and create subsequent iterations when the need arises (this does not generate waste of parts that do not work anymore and therefore have to be thrown away). A wide range of 3D printing materials, from plastics to metals, allows us to create high-quality end products, tailored to the functional needs, on an ongoing basis.
It is a method of warehouse and supply chain management that meets today's needs.
Are you ready to streamline your warehouse management and get a better storage solution for your products?
If so, I invite you to talk about it with our Sales Department, who will propose a tailored solution that will help you in the implementation of your project!
If you have your 3D files, you can send them to our Printroom and you will receive the printed objects within a few days!
If you need someone to design 3D models in our team, we have experts who can take care of it!
Contact:
LinkedIn: Monika Niedźwiedzińska
m. +48 881 757 632
e-mail: mn@omni3d.com