INDUSTRIAL 3D PRINTER
Omni LITE
Machine for demanding customers with quick and easy operation
with industrial standards.
Now available in a new release after rebranding and technological changes - for better print quality and user experience!
CHECK
ALL CHANGES
Download the leaflet
Build volume 460 x 460 x 600 mm
You can print large objects or multiple smaller models at once.
2 extruders with filament presence sensor
The machine is equipped with dual heads which make it possible to print on both sides of a fabric during one printout, the main build and the support material.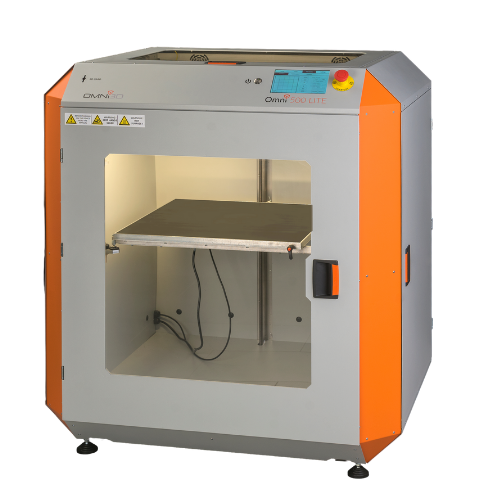 Printer management by website
The printer can be managed through a dedicated website, so you can easily start printing and control the process remotely.
Printer farm management
The possibility of remotely building and managing a printer set.
The benefits of working with us
Technical specification of the Omni LITE
Technical data
Build volume XYZ
460 x 460 x 600 mm
Nozzle diameter
0,4 mm (optionally 0,6 / 0,8 mm)
Max. printing speed
86 cm³/h
Filament diameter
1,75 mm
Technical data
Max. head temperature
360 °C (optionally 500 °C)
Max. platform temperature
150 °C
Max. chamber temperature
do 50°C
Compatible files
.stl, .obj, .3mf, .gcode, .factory
Leasing
Attractive financing for your device
ASK AN OFFER!