All articles
Category: Knowledge, 15.06.2023
A new step in innovative 3D printing, thanks to the collaboration from Kimya and Omni3D
3D printing is constantly evolving, bringing more and more advanced technologies and materials to create 3D objects of high quality and strength. One of the latest developments in 3D printing materials is ABS Carbon filament.
Kimya is a respected manufacturer of 3D printing filaments, known for their excellent quality and wide portfolio of available materials. Their years of experience and commitment to research and development have contributed to the creation of ABS Carbon filament, a material with exceptional mechanical properties and innovative applications.
"We at Kimya are proud of our collaboration with Omni3D, which allows great quality, large object industrial parts to be printed easily using Kimya's technical range of filaments. It is by combining both our expertise, Omni's printer technology and our Kimya material development, that we are able to make the manufacturing of functional, reliable parts a success." – Benoit Stoeux, General Manager.
ABS Carbon is a composite material that combines the advantages of ABS (acrylonitrile-butadiene-styrene) and carbon fibre. ABS is a thermoplastic copolymer with a unique combination of strength, ductility and heat resistance, as well as excellent machinability. Compared to metal fibres, carbon fibres do not significantly increase the weight of the final product. The combination of these two materials results in a composite with exceptional properties in the form of ABS Carbon.
One of the most important characteristics of ABS Carbon filament is its mechanical properties. The addition of carbon fibres makes it ideal for printing parts which require high strength and stiffness. This makes ABS Carbon filament the ideal material for the production of tooling, fixtures and other aids that ensure the continuity of a company's maintenance.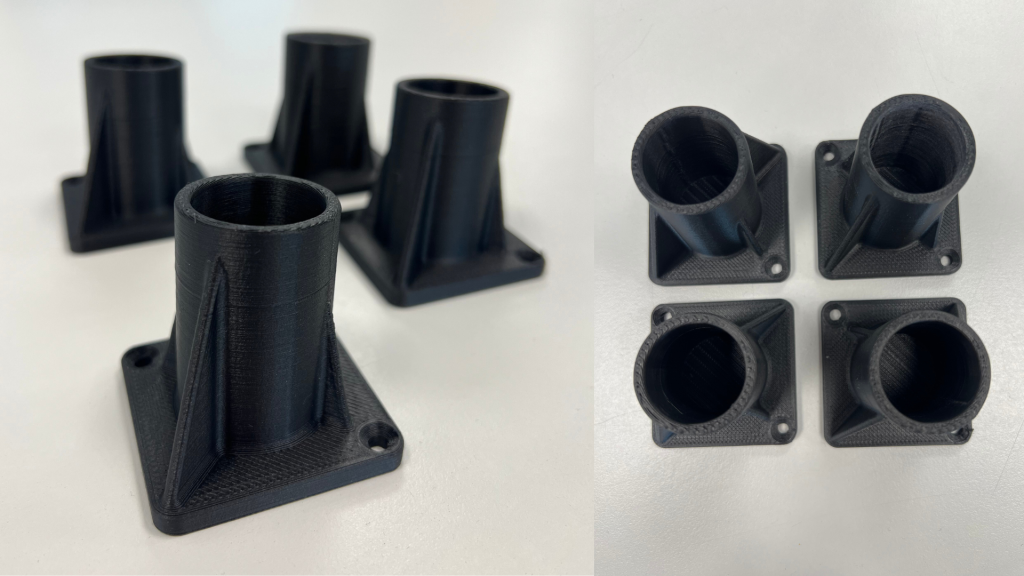 Printout: Table leg sockets
Another benefit of ABS Carbon filament is its low density. Therefore, components printed from ABS Carbon felt are ideal for applications where low weight is a key factor. The use of plastic components allows the use of, for example, engines with less power, reducing the cost of the project. The low density of the material also translates into energy savings and reduced wear and tear on equipment.
It is also characteristic of excellent surface quality. Parts printed with it have a smooth and aesthetically pleasing surface, which does not require additional processing.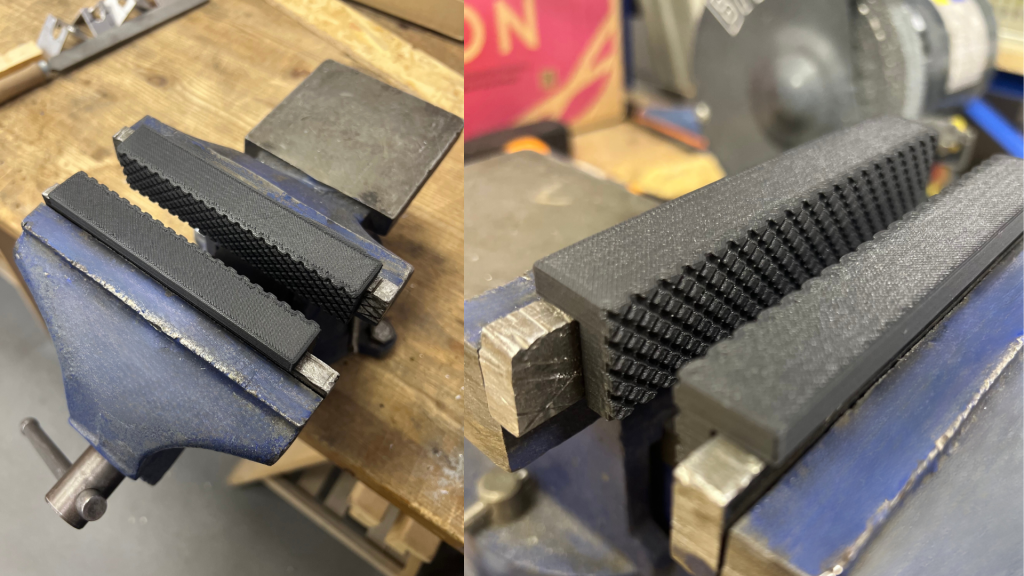 Printout: Quick-change soft vise jaws
The use of ABS Carbon filament in 3D printing opens up a wide range of design and production possibilities. Thanks to its unique properties, durable and lightweight parts with complex shapes can be created.
"KIMYA as a filament supplier allows me to pursue challenges that were previously out of my reach. In combination with Omni3D sizable machines I can venture into the world of large scale additive manufacturing." – Wojciech Wiśniewski, 3D printing Technologist at Omni3D.
With the combination of advanced 3D printers and innovative filaments, users gain greater freedom to design and produce high-quality parts. When combined with the precision of Omni3D printers, ABS Carbon filament becomes indispensable.
Kimya filaments are available at our online store or our official distributor in France: ERM Fab&Test.