All articles
Category: Case Study, 29.03.2022
Remote control housing – 3D printing in the production of final components
Advanced Robotic Engineering is an innovative robotics engineering company. The Wroclaw-based company designs, manufactures and develops mobile industrial robots that improve work efficiency and safety.
ARE has ordered Omni3D to 3D print a remote control housing. The device is used to control a robot used in industrial settings. Due to the low production run, 3D printing proved to be the best solution. In case of such customized elements, traditional production would be not only more expensive but also time-consuming. 3D printing allowed for free modifications of the remote control, depending on its place of application and the type of robot being produced. The possibilities of changes in a single element concern both materials and colours.
Solution
Due to the size of the model the best solution was to print on the large-format printer Factory 2.0 NET (with a buildvolume of 500 x 500 x 570). The heated working chamber with a volume of up to 142l the precise Omni3D Cooling System and Omni Air Control made it possible to carry out 3D printing without worrying about shrinkage or dimensional aberrations.The ABS-42 and ABS Carbon material used in the project is a universal industrial material, which is characterised by high mechanical strength and durability, at the same time being easy to process.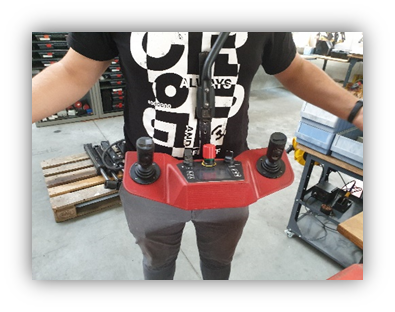 Effect
3D printing proved to be the cheapest and fastest method for low volume production of a specialist remote control. The device was printed in two parts: the top in red and the bottom in black, and then assembled with the screen, electronic components and joysticks. The colours were chosen by the company for reasons of design and industrial operation. The robust material and the comfortable grip make the remote control for the ARE robots ideal for everyday use, where it is exposed to both high temperatures and harsh production environments.
3D printing allowed us to make exactly the device we needed! We were able to print just a few pieces and save time and cost in the process, which would not have been possible with a traditional form of production. We were able to change the design, improve it and test it again and again before the most suitable pilot for our company was created.

Krzysztof Jakubowski, CEO of Advanced Robotic Engineering
SEKTOR

 HEAVY INDUSTRY

    

KLIENT

 Advanced Robotic Engineering   

KATEGORIA

 Final product,
low volume production


FILAMENT         

 ABS + ABS CARBON

CZAS DRUKU

 49h 21min + 42h 5min

WAGA

 546g + 493g 

WYMIAR

 400 x 170 x 50mm
Want to know more about the possibilities of 3D printing?
Contact us!