All articles
Category: Knowledge, 23.05.2022
The role of 3D printing in the electromobility revolution
In recent years, the automotive sector, has faced many difficulties. A pandemic has shaken the passenger car market. While 3.6 million passenger cars were sold in Germany before the crisis year 2019, the market has shrunk to 2.9 million in 2020. Semiconductors are in short supply, supply chains are disrupted, raw material prices are rising, oil is being added to the fire by information like this one when the Felicity Ace ship, which was transporting Volkswagen Group cars from Germany to the United States, is on fire along with cars on the underbelly such as Volkswagen, Audi, Porsche and Bentley,(that's roughly 1 percent of this year's total production!)
Author: Michał Kowalczyk, Senior Sales Manager Omni3D
Fortunately, there is light at the end of the tunnel, a slow recovery on the supply side, and electric cars are behind it. This is why car sales are forecast to rise to 3.01 million units in 2022.
Global offices and institutions are speaking in unison about the transformation on the streets, betting on electric cars. This is due to the increasing pressure to reduce exhaust reductions. That's why many analyses and forecasts say that by 2035 at least half of the cars produced in the U.S. will be fully electric, while the percentage in China and Europe will be much higher than 50 percent.
What's more, the number of all-electric models available by 2023 is expected to almost triple.
The situation is similar in the world of industrial 3D printing, where 3D printing is no longer associated only with prototypes, but more and more companies think of it as a full-fledged production tool.
The global 3D printing market size is estimated to reach $62.79 billion by 2028.
source: 3D Printing Market Size, Share & Trends Analysis Report by Component, by Printer Type (Desktop, Industrial), by Technology, by Software, by Application, by Vertical, by Material, by Region and Segment Forecasts, 2021 – 2028
Why are 3D printing and electric cars the perfect pair?
Let's start with the roots of 3D printing, namely prototyping. In 1885, Carl Benz built the first three-wheeled car, the Benz Patent-Motorwagen Nummer 1, which is considered the first car with an internal combustion engine.
From that point on, motoring has come a very long way to virtually perfect machines. People who constantly worked on developing and researching new solutions contributed to this success.
With the rapid growth of the electric car industry and the pressure for ever better performance of such cars, the industry will need countless prototypes. No one doubts that we are at the beginning of the journey of creating the potential of electric cars.
Never before in history have there been so many electronics in cars! The market is moving towards autonomous cars, and any modern car equipped with a pioneering driving system requires a series of tests with very advanced sensors on board – this generates the need to create brackets, mounts and other tools that can be printed on a 3D printer (by the way, check out the applications of 3D printing in automotive)
Prototyping has never been so fast and inexpensive and this is sure to have a positive impact on the development of many projects, especially in these tough times for automobiles.
3D printing is a much more cost-effective manufacturing method than, say, injection molding for low-volume production. At this point, depending on the complexity of mold creation, injection molding is cheaper than printing only at production volumes of a few thousand units, and for emerging projects in the e-mobility sector, this can make a huge difference.
Lightweighting is a highly desirable feature in electric cars
Why? Because lighter construction means longer battery life, and electric car skeptics cite battery life and range as the main weaknesses of the technology.
Electric cars are already quite a bit lighter without an internal combustion engine, but each additional weight reduction positively impacts battery life, which is why 3D printing could prove crucial in the e-mobility industry.
Firstly, selected materials are much lighter, and with proper design they will be as durable as traditional parts made of selected metals,
Another benefit of additive technology is the ability to freely edit the internal structure, thanks to which we can reduce the weight of a given element by up to several dozen percent… In 3D printing, we can freely edit the filling, as well as accumulate the filling in places where forces occur, thus strengthening the model at critical points,
The next advantage of 3D printing from the point of view of weight reduction is the fact that on a 3D printer we are able to print geometries not possible with other technologies, including printing several parts as one. This gives engineers the ability to design parts that are not only lighter, but also stronger than their original counterparts made using a traditional process.
The perfect fit for your material
3D printing has grown significantly in recent years, especially in the area of materials that can be printed on a 3D printer. The 3D printing materials market is projected to register a CAGR of 23.5%, in terms of value, between 2020 and 2025 (Wohlers Assosciates 2021)
Today, industrial 3D printers offer a dozen if not dozens of different polymers that we can juggle depending on our needs. And what impact does this have on electric cars?
Today we can print a part that:
resistant to high temperatures, e.g. heat resistant battery housings,
will not react to lubricants or chemicals up to 200°C, e.g. selected chassis parts,
extremely durable, e.g. brake brackets.
Digital parts storage thanks to 3D printer
Not only does 3D printing provide support for prototyping, weight reduction, or lower production costs, but it also offers tremendous opportunities for creating more flexible parts inventories.
Nowadays, the vast majority of models are created digitally, with a tendency to completely displace classic design forms – this creates huge potential for 3D printing.
In a nutshell, when all the parts are in one place on a disk, server, cloud or other form of quick access to data and we have 3D printers we are able to very quickly start production anywhere in the world. This allows us to respond quickly not only to the need to produce automotive parts, but also to the need to maintain our own machinery.
Printing on demand will significantly slim down warehouses and introduce a more efficient and sustainable supply chain.
Huge opportunities and challenges for the e-mobility sector
The current market situation and the development of 3D printing has created huge opportunities for the development of many projects in the e-mobility sector.
The number of entities that have started working on electric cars speaks about how big this market will be and how big this change will be in relation to how we define a passenger car today. Today, electric cars are produced by everyone, the largest automotive corporations, but "electrics" are also produced by a lot of new players, previously unknown in the European car market. The latter will have a simplified task, easier to adapt to the prevailing market realities, while large corporations will face a huge challenge of transforming their production units around the world.
If you want to know more about the possibilities of 3D printing contact us!
Be sure to check out the 3D printer offer from Omni3D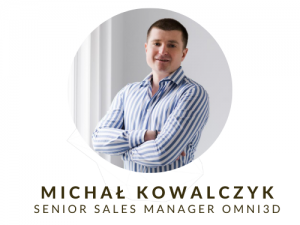 Kontakt:
m. +48 535 622 101
e-mail: mk@omni3d.com