All articles
Category: Knowledge, 17.01.2023
3D printing in 2023 – perspectives and threats
The year 2022 brought another turmoil to the market - those who thought the pandemic crisis was coming to an end were taken by surprise by Russia's attack on Ukraine. The 3D printing industry, seeing the light at the end of the tunnel, began to make optimistic plans for the future, this was unfortunately halted. However, many companies found time to improve their products or take a new path. This was especially evident at Formnext 2022. Everyone is wondering what 2023 will look like, and I've decided to share my insights with you, as I see a few trends that may inspire optimism.
Schools are starting to teach on a larger scale – 3D printing technologist could be the profession of the future
Several times during the year I have already mentioned the Polish program Laboratories of the Future, in which we, as OMNI3D, participate and which could form the basis of a new "3D-Education". In this program – every elementary school in Poland must be equipped with a 3D printer and conduct lessons on 3D printing. This is an ingenious gas pedal that has two sides – on the one hand, it determines a greater distribution of knowledge, and on the other, it forces the expansion of the product with auxiliary elements. Manufacturers, as well as equipment distributors, have had their eyes opened to the needs of the educational market in terms of hardware and the creation of a knowledge base that could be distributed in an accessible way in the school world, regardless of the level of education. I feel that the trend related to 3D printing education will continue in 2023. The opportunity to make printing technology more widespread is a path that manufacturers must take. This requires them to adapt and, in many cases, create new communication platforms with the education sector, which can become a springboard for the growth of 3D printing in the future.
We want to produce, not just prototype, and we want to do it as early as 2023
For many years, speed in 3D printing was something secondary. Everyone realized that 3D printing was ongoing. The pandemic years launched a new type of "customer" who was looking for new applications, and who had not previously thought about 3D printing. After initial optimistic insights, they encountered a wall – a wall related to speed. Many of them did not realize that even a small part could take several hours to print. For them, 3D printing went back to prototyping. However, manufacturers have begun to take notice, and we are seeing a growing trend to demonstrate the usefulness of 3D printing in the manufacturing process, working to speed it up. Pellet printers have emerged, which, despite their limitations, are faster than classic FDM. Printer Farms have appeared, which can print many parts on their own, creating production systems and automating processes. We also see new extruders with increased flow, new nozzles that speed up FDM printers. Each new 3D printer boasts that it is faster than the previous one or the competition. New technologies are being developed that speed up and give an air of optimism. Personally, I would argue that solving the speed problem or time optimization of the process will be the dominant trend in 2023 and beyond. The pandemic and the war have shown that 3D printing has many possible applications, and if the industry focuses on eliminating the speed barrier, it will grow fast and produce on time.
Process certification is important and will be even more important in 2023
We live in a world where product quality plays a big role, and many determine the failure-free process by the quality of components. 3D printer manufacturers have noticed this as well and want to adapt. Recently, more and more companies have emerged that try to study the printing process and determine the quality of the manufactured part based on this. All this is done to authenticate the manufactured part. In many cases, certification of the manufacturing material alone is no longer enough – more and more often, a report on the manufacturing process is also an element that determines the possibility of using the print in a given application. These elements are key to making a print credible and are the basis for its future safe use. In 2023, this trend will be one of the paths taken by manufacturers of not only printers, but also components and software in such an uncertain year. Partly contributing to this will be the development of Industry 4.0, which will force us printer manufacturers to be more in control. Above all, if we want to bring printers into the world of industrial applications, in particular railroads, the defense industry, space, etc., we will need to be able to do so.
3D printing technologist wanted – or contract printing a trend in 2023
Starting optimistically – there is no alternative to 3D printing. Industrial 3D printers will be a growing part of the world. However, the rate of growth will be determined by the number of specialists who can print from engineering and industrial materials. A quiet trend for 2023 will be the growth of companies specializing in 3D printing services. What's more, large manufacturing companies are increasingly turning to Printrooms – printing on contract in the first place until a given production reaches a profitable level of machine investment. This is a logical path that minimizes risk, while giving them the opportunity to familiarize themselves with the technology and giving them time to find a print technologist who can lead production in-house. The trend of developing 3D printing services will gain momentum, and will accelerate even more when such an opportunity is recognized by all. An additional gas pedal of this trend is the fact that more complex engineering materials already have their "easier" printable versions. This aspect, among filament manufacturers, will determine the development of the entire industry many years ahead and make it easier to decide on the next implementation steps.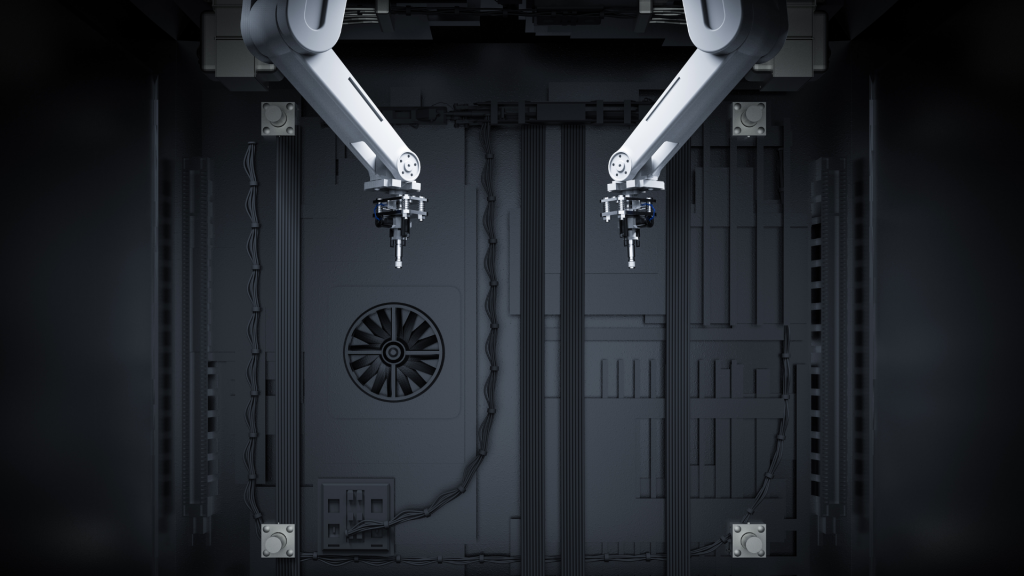 But what about the FDM/FFF?
This question comes up whenever we attend a trade show. We haven't had a breakthrough for many years, and for many years we've seen an internal race and a gnawing at each other. This will become more and more apparent in the next year and probably for years to come. FDM technology as the "simplest" and cheapest one will always be the driving force. As fast as FDM printers evolve, so will the industry. Is the position of FDM/FFF under threat? Looking at the undeveloped potential, setting our sights on the largest plastics manufacturers, and imagining automation and process certification, we can 100% say that for a long time to come, or always, FDM technology will lead the way, driving the industry. However, we need a breakthrough inside the technology to break into the position of the branch that will create the future. FDM has the potential to do so, which needs to be realized.