All articles
Category: Case Study, 23.06.2021
3D printing of Bioreactors in the BioElectroCathode project
The BioElectroCathode project aims to innovate biocatalysts for biological electrosynthesis by producing new cathodes and a 3D biological electrosynthetic septum reactor that can convert CO2 into methane and / or ethanol. Omni3D 3D printers contribute to this innovative project.
What do bioreactors give and how do they work?
BioElectroCathode is an innovative project aimed at the use of 3D printing technology for the production of electrochemical bioreactors and the development of methods for the production of cathodes necessary in the bioelectrosynthesis process – we wrote about it in the article BioElectroCathode project – biofuels thanks to a 3D printer. The 3D printed bioreactor creates optimal conditions for the growth of bacteria, which, stimulated by a small electric charge flowing through the cathode, convert CO2 into methane or into ethanol. The thus produced energy carrier can be stored, distributed and used, for example, as fuel in natural gas vehicles.
What techniques have we used to print bioreactors?
In the BioElectroCathode project, bioreactors are printed using FFF technology. For their printing, readily available thermoplastic materials were tested, which in the future will be used for mass, energy-saving and stable production of bioreactors with the use of additive technology. After many tests, we are using ABS and PA CF material for prints, and the prints are made on our Factory 2.0 NET industrial printer. Bioreactors are designed in such a way that their printing takes place without the use of supports. Thanks to this, and thanks to the use of a higher printing layer of 0.3 mm, the production time of the bioreactor is significantly reduced. 3D printing allowed for multiple changes and improvements to the design. By changing the design parameters of individual reactor elements, such as the shape or thickness and the degree of filling, the structure of the printed device can be easily manipulated and, consequently, improve the operation of the bioreactor.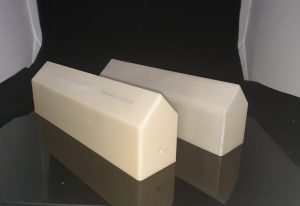 What are the advantages of 3D printing technology?
The 3D printing technology prevails over traditional manufacturing methods in many respects. 3D printing allows you to design and manufacture the most geometrically complex objects, and compared to other methods, it has very few design limitations. Thanks to 3D printers, we can very quickly produce a prototype and create its various modifications. Considering the advantages offered by additive technologies of eliminating human error, reducing the costly, time-consuming and multi-part production of a bioreactor, the design and testing process has been greatly improved, while increasing the freedom for design changes. Due to the individuality and geometrically complex design that must meet many requirements – the production of bioreactors using a different method is a much more complicated process.

The BioElectroCathode project is carried out in the following partnership:
Research and Innovation Centre Pro-Akademia (Poland)
OMNI3D Sp. z o.o. (Poland)
Cyprus University of Technology (Cyprus)
ENERES CPM Ltd (Cyprus).
Powiązane artykuły