All articles
Category: News, 28.04.2020
Omni3D extending the filament offer
Antistatic properties, increased temperature, chemical and mechanical resistance – these are just some of the features of the new Omni3D filaments, which will soon be introduced to the offer.
The extension of the Omni3D filament offer is a response to the growing requirements of our clients who use industrial 3D printing in their daily work.
From May 4th, we will be selling new filaments, which will certainly find their application area in the petroleum, automotive, aviation and even chemical processing industries. New filaments will also include support materials that are completely water-soluble and facilitate printing of complex models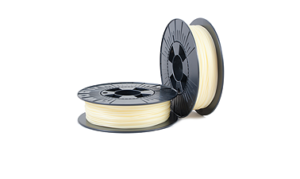 Read more about new filaments in the Omni3D offer:
Ultrafuse® ABS Fusion+ – adhesive filament with a matte finish

Filament used in the automotive industry, used to manufacture tools and automotive parts. The advantage of this filament is its adhesion to the table, thanks to which it is not necessary to use additional adhesives in the printing process.
THERMEC™ ZED – the highest chemical resistance

It is used to print tools and equipment exposed to high temperatures and contact with chemicals.Thanks to very high mechanical and thermal strength, it becomes an ideal material for applications in the automotive, chemical, petroleum and gas industries. Flame retardant and self-extinguishing material with a very good paint coverage.
PEKK-A – high strength for demanding users

Filament created for the most demanding applications in the petroleum, automotive, aviation and chemical processing industries. It is characterized by very high mechanical, chemical, temperature and abrasion resistance. It is resistant to a wide range of chemicals. The material is inherent flame resistant, which confirms compliance with UL94 V0.
PA-12 – dielectric properties combined with high impact strength

Nylon with very high tensile, abrasion, bending and impact resistance. Used in the machinery, electrical, automotive, transport and machine building industries. Unbreakable, characterized by high impact strength, very good dielectric properties and dimensional stability.
XSTRAND™ GF30-PA6 – 150% stronger and stiffer than ABS
Reinforced nylon with very high rigidity, strength and wear resistance – it is 150% stronger and stiffer than ABS. It is characterized by good chemical resistance and UV resistance. Material for the production of functional prototypes and demanding, final industrial parts. It also works well in the production of parts subjected to mechanical stress.
PVA-20 – water-soluble, ensuring fast post processing
The polymer is well suited as a support material due to its unique property of dissolving in warm water. It enables very easy processing, even with very complicated shapes, because you only need to immerse the print in water for some time.
ODS-20 – ease of printing even complex shapes
The support material is not soluble in water, but in a mild alkaline solution, and at the same time works very well with technical filaments, i.e. PEKK, PA, PC, ABS / PC, TPU, ASA, ABS or PET. Importantly, the resulting solution can be safely drained to the sewage system.
You can see all filaments in our offer on the filaments webpage
Our specialists will provide more information about the new Omni3D filaments:
sales@omni3d.com 
Powiązane artykuły