All articles
Category: Case Study, 08.07.2020
Door end cap – 3D printing in Architecture
A few years ago, the furniture industry discovered the benefits of 3D service. Designers and architects look for inspiration and opportunities to experiment with materials, structures and shapes in this technology. The presented designs confirm the potential of 3D printing in interior design i.e. original furniture, sophisticated lamps, personalized vases and other everyday equipment to satisfy every customer.
The 3D printing process also seems to be ahead in the future when it comes to the production of individual furniture or design components. In this way, traditional furniture production is combined with new technology.
An example of just such action is confirmed by Omni3D's cooperation with Ataner. The developer from Poznań, focusing on comfort and personalization, turned to Omni3D with the need to design a door end cap. Entrance doors adapted for easy mounting of the door closer will be installed as standard.

It should be emphasized that door closers are becoming more and more popular, they clearly translate into safety and reduction of heat losses in rooms. They lead to immediate closing of the door, and warm air from the inside is blown out to a much lesser extent. Many customers decide after the time to install such a door closer.
We started cooperation by designing a 3D model of the door end cap. The developer delivered his door to Omni3D so that the engineer could make measurements and test the printout in terms of ease of installation, rigidity (choosing the appropriate filament) and taking into account the investment cost. After several attempts, the final door end cap was created.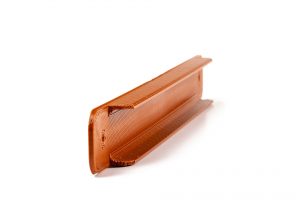 "At our request, Omni3D made once more door end cap,, which were printed with due care within the set time. Ataner sp.z o.o. recommends Omni3D as a reliable and appropriate cooperation partner. "
Ataner  sp. z o.o.
Project: Omni3D
Filament: ABS-42 brown (color matches the color of the door)
Layer: 0.4 mm
Length: 34 cm
The project was successful and we carry out subsequent orders for printing hundreds of end cap, which confirms once again that 3D technology is only to serve people.