All articles
Category: Case Study, 20.07.2020
Automotive: Durable spare parts printed on an industrial 3D printer
The possibilities offered by 3D printing technology have been used for a long time in the automotive industry and at every stage of production - from prototyping to the production of spare parts and final elements. The available materials allow us to print not only lightweight but also extremely durable elements.
3D printing technology is not only used on production lines, but is also the best solution for the production of individual motorcycle spare parts.
Motorcycle owners know best how many hours you can spend repairing, cleaning or tuning your vehicles to make them look their best. Thanks to 3D printing technology, you can quickly and cheaply produce many motorcycle gadgets, such as a phone holder, side foot stand or helmet hanger.
Not surprisingly, it was an Omni3D employee who once again proved how easy it is to use 3D printing to produce a spare part for his motorcycle.
The task was to design and print a component that effectively replaces the broken end exhaust end cap.
The 3D printing specialist knew best that the printed element should be made of a durable, but also heat-resistant filament (exhaust gas temperature reaches 300°C).  The extension of the range of filaments increased the possibilities of 3D printing, even in such demanding applications.
The prototype was printed with CF PA-12, which was quickly tested for form and function. An additional benefit in designing the element was the possibility to create a new design. This confirms that industrial 3D printers provide extraordinary opportunities to create and improve elements in a very short time.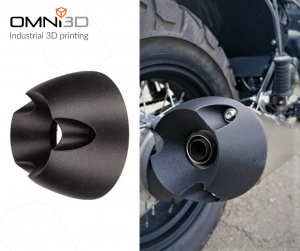 For printing we used
CF PA-12 filament
(polyamide 12 matrix composite, reinforced with carbon fibers). It is characterized by exceptional durability, high rigidity and tear strength.
The printout was made on a printer: Omni500 LITE
Layer: 0.2 mm
The nozzle: 0.4 mm
Printing time: approx. 7 hours.
Weight: 75.51 g
More examples of 3D printing applications in the automotive industry – here
Contact us and find out more about the possibilities of an industrial 3D printer
Powiązane artykuły