All articles
Category: Case Study, 23.02.2022
3D printing: car equipment and accessories
The automotive industry takes advantage of the possibilities offered by 3D printing at every stage of production - from the prototype and tests to the production of spare parts and final elements. One of the best ways to use a 3D printer is to design and 3D print car accessories. It is not only functional, but also a unique design. What's more, 3D printing allows us to recreate a cheaper version of an existing product.
An example of a functional element for a car that has been printed in 3D technology is a waterproof, protective and designer car mat. Individually designed for the client's needs, ideally suited to specific dimensions, it replaced the existing element of the car interior.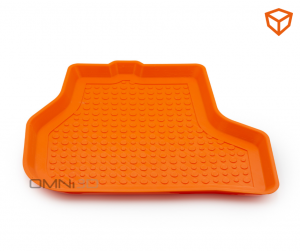 Printout Specyfications
| | |
| --- | --- |
| SECTOR | Automotive |
| CATEGORY | Low volume production |
| FILAMENT | TPU-93A |
| PRINT TIME | 41:29h |
| WEIGHT | 531.78g |
| SIZE |  450x416x25 |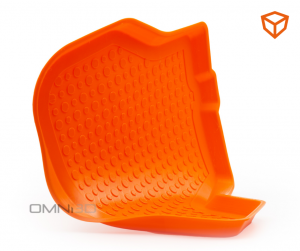 TPU-93A
used in the project is a material that allows printing of flexible, bendable / compressible elements. It is characterized by high chemical resistance to oils, greases and other substances, as well as to weather conditions. Printouts are resistant to mechanical stress and abrasion, and they also perfectly dampen shocks, vibrations and impacts.
The possibilities offered by large-format 3D printing are used not only by individual customers, but also by automotive concerns, smaller workshops and car tuning companies. As the Omni3D case-study shows, the use of 3D printing in the automotive industry allows you to create lighter parts, much more durable and, most importantly, from a wide range of available materials.
Discover more automotive case studies from Omni3D:
Powiązane artykuły