All articles
Category: Case Study, 05.05.2022
3D printing supports innovation at DEFOR
DEFOR SA is the largest general contractor of modern facades in Poland. For several decades, it has been at the forefront of aluminum and glass facades producers, also in Europe. Currently, the most spectacular buildings of our time are covered with aluminum and glass sheathing. Bold architectural ideas that must be met by engineering solutions appear more and more often - original ideas require an individual approach and modification of currently used profiles. Profiles that will not only look elegant and tasteful, but most of all, will withstand extreme loads.
Case-study
The picture below shows the facility that the DEFOR company is currently implementing. There will be specially designed profiles that have never been used before. In order to obtain the desired plane, the architects created guidelines for the specific shape of the profiles. On the other hand, the employees of the Department – Designing Aluminum Structures had to modify the previously used project.
Solution
The Omni500 LITE printer is an excellent tool for prototyping and customization of industrial solutions. The models were positively assessed by architects and met the requirements in terms of construction and strength. The printed profile prototypes will ultimately be made of aluminum, but thanks to the selection of the appropriate filament – ABS-42, they could be comprehensively tested, just like the final elements.
"The ability to improve the model and quickly print subsequent iterations of profiles significantly improved the work of designers and opened the way to a faster and more individual approach to production topics." Włodzimierz Olejniczak, Defor SA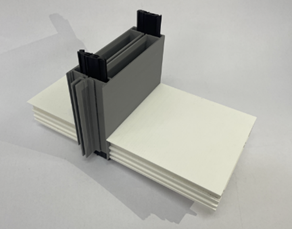 photo. Prototype – joinery junction, tentatively composed of 4 printed profiles. The profiles have been glued together, but the final aluminum profiles will be bolted together.
Effect
The facades, refined in terms of shape and functionality, give the constructed buildings a noble and modern look. A variety of profiles are an ideal material for the realization of architects' dreams and meet individual customer expectations. Moreover, thanks to their endurance potential, they will surely survive the next generations.
Printout specification:
| | |
| --- | --- |
| SECTOR | Light indystry |
| CLIENT | DEFOR SA |
| CATEGORY | Prototyping |
| FILAMENT | ABS-42 |
| PRINT TIME | 6h 3′ + 8h 48′ |
| WIEGHT | 65 g +130 g |
| DIMENSIONS | 85 x 191 mm + 75 x 76 mm |
Do you want to know more about the possibilities offered by 3D printing?
Contact us!
Powiązane artykuły