All articles
Category: Case Study, 11.04.2022
Robot arm safety cover – 3D printing in the production of final components
Flexlink is a world leader in manufacturing automation, characterised by its individual approach to customer needs. The company's task was to implement 3D printing to help prototype and customise protective covers for robotic arms. This is a requirement for introducing robots into a collaborative working environment with humans.
Case-study
Omni3D was faced with the task of printing a cover that would meet the strength, dimensional and weight requirements specified by the customer for the project. Omni3D technologists selected the right material and designed a filling that met the expectations – and at the same time enabled printing elements in a relatively undemanding environment (chamber temperature of 50°C).
Solution
Taking into account these needs resulting from assembly and operation, ABS-42 filament with a model fill of 25% was used for the project. Due to the size of the component, 3D printing was carried out on an Omni500 LITE large format printer.
Effect
The print was positively evaluated and met Flexlink's requirements. The customer has purchased the printer and is using it for individual applications on designed lines. As a result, it can reduce the costs associated with building moulds and significantly speed up decision-making and, consequently, the implementation of new solutions. The use of 3D printing has opened the way to a faster and more individual approach to the users' needs.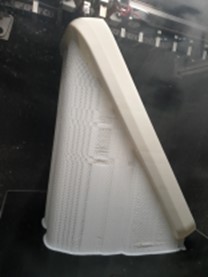 Print specification
SECTOR

Production Line

CLIENT

Flexlink  

CATEGORY

Final product,
Tooling


FILAMENT         

 ABS-42

PRINTING TIME

46 h

WEIGHT

570 g

DIMENSIONS

610 x 372 x 34 mm
Want to know more about the possibilities of 3D printing?
Contact us!
Powiązane artykuły