All articles
Category: Knowledge, 17.09.2020
How does 3D printing revolutionize the aviation industry?
It's been a long time since Frank Pearne and Charles L. Krum started working on a printing telegraph called a teletype. Since that invention, technology has taken a significant step forward, making electric cars, super fast computers or space travel a reality. Additive technology, known to us perfectly well as 3D printing, has been developing for about two decades, but its role in the ongoing technological revolution is significant.
Author: Cezary Wilczyński, Senior Sales Manager Omni3D
Previously known as Rapid Prototyping, the process was mainly limited to prototyping and product testing. It has evolved strongly and now allows to produce products for end users in different industries. By reducing the weight of components, reinforcing the materials used and improving the design, it significantly affects, among others, the aviation industry.
Comparison: 3D printing and traditional manufacturing methods
Aerospace industry is a range of commercial, industrial and military applications. It consists of departments dealing with the design, manufacture, operation and maintenance of aircraft or spacecraft. As one of the first beneficiaries of 3D printing, the aeronautics industry is the driving force behind this technology, both in the production of components for end applications and in the creation of prototypes. Manufacturers of military aircraft and equipment use 3D printing to reduce supply chain constraints, reduce storage space and reduce waste of traditional production processes. Fast production of aircraft parts on demand saves a huge amount of storage space, time and money. To illustrate this, I confrontdditive manufacturing with traditional manufacturing methods: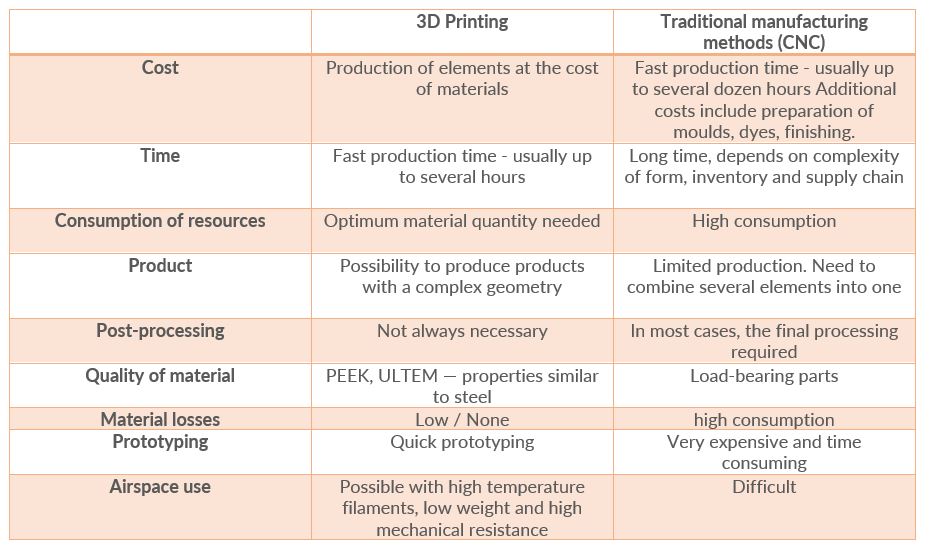 Possibilities of 3D printing in the aviation industry
In practice, mass minimization is the most important factor desired by the military, aircraft manufacturers and the space sector. The weight of an aircraft affects its payload, fuel consumption, emissions, speed and even safety. In contrast to traditional manufacturing processes such as CNC, parts are formed from the base, layer by layer, allowing for a very complex geometry with fewer components. This all results in less weight in the air. Air ducts, wall panels, seat frames and even engine components all benefit from the reduced weight provided by 3D printing.
This is best seen on the example of "Airbus", which currently has a record number (over 1000) of parts printed in 3D in its new A350 XWB aircraft. The use of 3D printing technology, namely the ULTEM 9085 filament, helped in fast and efficient production. This thermoplastic polyetherimide is a certified material that meets the relevant flammability and toxicity standards. Thanks to its excellent mechanical strength achieved through a high force-to-weight ratio, it is similar to steel. The same situation is with the use of 3D printing by NASA. Here the 3D printer was used to develop and test the space rover. Equipped with a pressure cabin, the rover contains more than 70 parts manufactured in FDM technology. This includes, among other things, fireproof vents, housings, fixtures, doors, bumper and many other non-standard equipment.
Filaments used in the aviation industry
Before use under such extreme conditions, materials must be thoroughly tested for various properties such as dimensional stability, strength, viscosity, heat and moisture resistance. Appropriate aircraft and spacecraft safety certificates must be obtained. This is an extremely long process, many projects are at the level of specialized testing. Among other things, the delamination and cracking of printouts under the influence of specific factors is being worked out.  3D print technologists are developing new methods for reducing porosity on printouts, minimizing cavities caused by shrinkage, oxidation or other leaks. An example of such activities is the addition of carbon or glass fibres to the PEEK filament, which significantly improve mechanical properties and enable thermal conductivity.
3D printing is definitely revolutionizing the world of production, even in the most advanced industrial sectors, such as aviation. This industry is based on two needs – low weight equipment components and high security. 3D printing systematically solves these problems. So it seems just a matter of time when 3D printing will become a standard used on a huge scale.
If you are interested in the implementation of 3D printing in your company or the industrial 3D printers from Omni3D
– feel free to contact us!
Powiązane artykuły