All articles
Category: Knowledge, 09.11.2020
Wake up creativity with 3D Printing
"Release your creativity" - this slogan is present and repeated everywhere, but is it easy to implement? In industry, more attention is paid to not making mistakes, and this restricts the free will and freedom of creation. Safety is a priority in medicine, maintenance, defense and aerospace industries. What if creativity and risk minimization could go hand in hand? What if creativity was the way to reduce the risk?
Author: Tomasz Garniec, Export Manager Omni3D
We rarely hear about breakthroughs in some commercial industries, and probably medicine is always the priority and the most common topic of those mentioned above. Let us briefly consider why. In my opinion, this is one of the few areas that does not follow a "closed environment", uses all methods to involve as many people as possible and uses all possible technological advances to find a solution quickly. Maybe that's why medicine is developing rapidly and we hear about innovative solutions or methods more often. It was also noticed by manufacturers of 3D printers, or rather doctors noticed the potential of 3D printing and shortly after the invention and development of the technology, it began to "enter" more and more into Medicine, creating a separate segment of the "world of 3D printing". I'm not saying that 3D printers significantly contributed to the emergence of new "novelties" – but medicine is an example of how the concentration of diverse knowledge and techniques – supported by a global network of specialists (knowledge as known), can quickly accelerate development and awaken of creativity. Now, 3D printing in Medicine is used in a wide range of applications – in bio-printing, through exercise models, printing bones, stiffeners, prostheses, orthoses, drug dispensers and other elements that facilitate an individual approach to the issue. Creativity with a capital later K!
The creativity of 3D printing as a revolution in industrial sectors?
In this publication, I want to point out that the implementation of the same model of conduct (or really close to this) and adaptation of new technologies in other areas of life could significantly accelerate the development – and thus "accelerate" the release of creativity. Focusing for a moment on heavy industry and answering the question whether, as in medicine, we hear about frequent technological breakthroughs, about overcoming milestones. We can obviously say no! It is clear that the intentions are different. Industry must always be driven by profit, it must exist without waiting for support from external bodies or organizations and minimize threats. From my point of view, it is in the broadly understood industry that 3D printing can be a factor that accelerates and creates foundations for innovation. Going further, the creative use of 3D printing can be a significant element in reducing risk. Considering all these elements and the scale of using 3D printing, I can easily say – it's time to get creative! Time to enter the "world of 3D printing" !! I am Inviting You!
There are at least 2 aspects showing how we can use 3D printing in the industry and following above mansion model:
Prototyping and low-volume production is something that is used to a large extent, giving the possibility of simplifying processes and accelerating decision-making paths, and thus implementing new or individualizing products much faster than before.
Service – or maintenance. It is this aspect of the creative use of 3D printing that is still insufficiently understood, and it is this aspect that I would like to address more broadly. One may ask why? What can be creative on this site? Why is the service one of the main elements of the company's and product development? I will answer this in short way –  gives you knowledge (to compare to the knowledge of the extending specialist –  it is a internal group of experts)- the so-called practical, which allows you to minimize – what limits creativity – that what gives a sense of security in making decisions. What can block the constructor from rocking his creativity to the maximum level – only lack of knowledge or incorrect knowledge about the realities in which the project will work or how it will be used. You can't predict everything. Who gives this knowledge? Practical knowledge – user – knowledge of the possibilities and working conditions – service.
3D printing with service department support
Moving on, the service is one of the points that are often overlooked in the implementation process, and this is where solutions are often created and can accelerate of the progress. I met the creativity of maintenance departments personally really often – and almost always the solutions they introduced were not widely known. By giving them the opportunity to use 3D printing or other "techniques" in a broader aspect than it is now, and by using the knowledge they have and thus will acquire – we can easily provide the design teams with an injection of necessary information that would significantly reduce the feeling of "lack of knowledge" and minimize the area of in which creativity is limited by a sense of risk.
An example of the creative use of service knowledge in the design of parts was the gear replacement project carried out in our company together with the customer some time ago. In the original version, it was an element fully made of metal, which regularly deteriorated under the influence of internal forces and stresses. The maintenance department, knowing the operation of the device and the behavior of the wheel itself, was able to quickly design a gear, the two-part structure of which changed the effectiveness of stress and forces, and thus the final part was used longer than the original one, significantly reducing costs and minimizing the risk of downtime. Brilliant, and that's just the beginning of creativity.
This example can be easily translated and embedded in the reality of every aspect of the use of 3D printing in industry. The knowledge that the service had at its disposal was used in the design and production – here printed – of the new part. The decision-making process has been shortened, simple and clear information has been used and all this has resulted in increased work safety, elimination of downtime and a significant reduction in costs.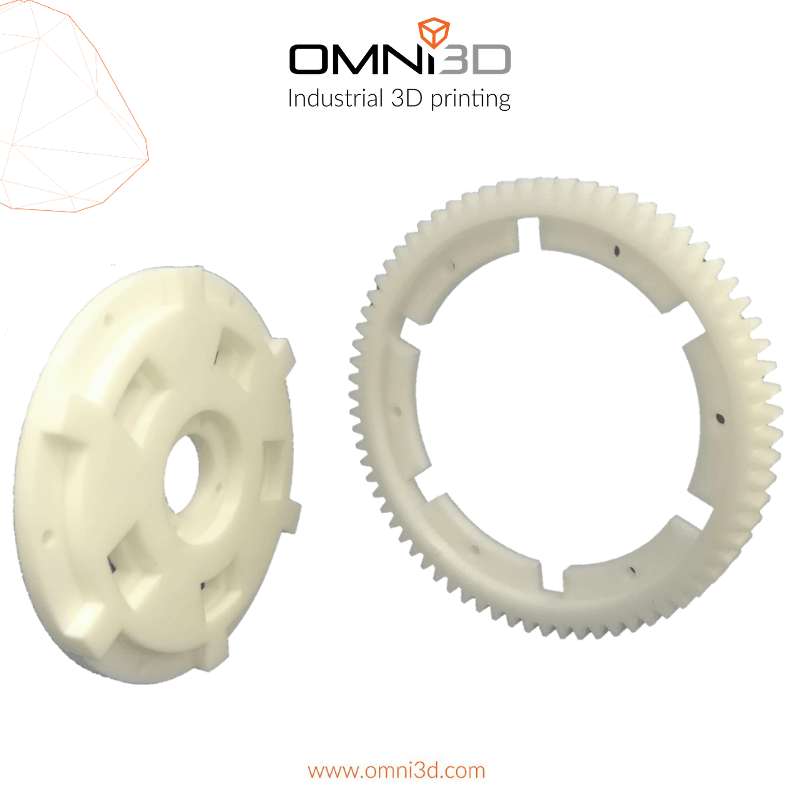 A significant element of this project was the disclosure of the ability to think creatively and use the knowledge derived from the maintenance department in which the capabilities of the 3D printer were discovered and used. The element made was only a small gate, the repeal of which made the contractor's organization open to the possibilities of 3D printing. In fact, it can be said that showing a small part resulted in a flood of new ideas, new solutions – and thus helped in accelerating the implementation processes, improved security and progress, which translated into the number of new creative ideas.
The publication is not exhaustive the subject – and I would like it to be the beginning of a broader reflection on the creative use of 3D printing and thus of release of creativity. I would like these few words to give a basic for a greater analysis and to contribute to a different perspective on the knowledge we have and which is relatively easy to collect. By giving individual departments, people, single units in the organization, in life, greater freedom, awakening greater creativity, and at a later stage collecting the resulting knowledge and its creative use in subsequent stages. This can significantly accelerate the progress of each unit. In this aspect, 3D printing is an indispensable element that should be the basis for awakening creativity and also the relatively cheapest way to stimulate it – as in the example above – 3D printing has become a seed for making a part anew and improving it. The only thing left to say is – release your full creativity – if you don't know how, start with 3D printing.
Do you want to know more about the possibilities of using 3D printing?
Contact us and find out more about the possibilities of industrial 3D printers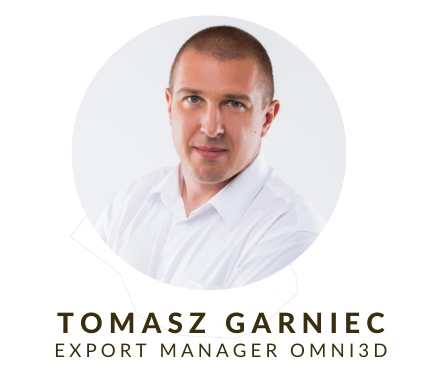 Contact:
LinkedIn: Tomasz Garniec
m. +48 886 618 588
e-mail: tg@omni3d.com
Powiązane artykuły